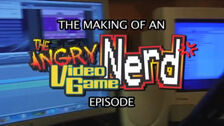 The Making of an Angry Video Game Nerd Episode is a 35-minute video of The Angry Video Game Nerd. (following before the AVGN movie). It first premiered on Gametrailers on July 7, 2011 and later released on YouTube on May 7, 2012. A video was making of a AVGN episode (Not to be confused as a Volume 1 DVD called a documentary What Was I Thinking?). Some of the review was only the Barbie game for NES and it was reviewed by only 3 minutes. This is the second-longest AVGN episode, being surpassed in 2018 by EarthBound at 39 minutes.
See also
Community content is available under
CC-BY-SA
unless otherwise noted.