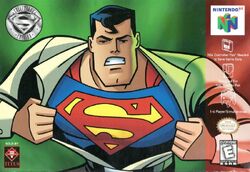 Superman: The New Adventures (sometimes referred to as "Superman 64") is an adventure video game released in North America on May 23, 1999 and in Europe on July 23, 1999. The game was designed by Titus for the Nintendo 64. This game's style and characters are based on Superman: The Animated Series.
Plot
Superman's archenemy Lex Luthor invents a virtual reality Metropolis and successfully captures Lois Lane, Jimmy Olsen and Professor Emil Hamilton within it. So, Superman has to save them and stop Luthor.
2008 AVGN episode
After the end of the Superman review, Viewers have decided to take responses for Superman 64 when the next game will be reviewed. the video has been released on Gametrailers on July 8, 2008 and later on YouTube on January 13, 2010. Other video games reviewed by the Nerd was Superman: Man of Steel on Commodore 64.
Prior to that, some bits of this episode were filmed in the Nerd's original gaming room in New Jersey, but most was filmed in the new gaming room in Pennsylvania.
2019 AVGN episode
20 years after the original game's North American release and 11 years after the Nerd's initial review, it was covered again in the episode Superman 64 Returns!! where the Nerd went more in depth with the game-play and backstory, similar to the revisited reviews he did of Dr. Jekyll and Mr. Hyde and Back to the Future. The episode ends with the Nerd killing the evil Superman 64 cartridge as a reference to 2013 film Man of Steel.
See also
Community content is available under
CC-BY-SA
unless otherwise noted.