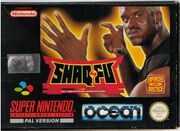 "The controls are mutilated - fucking atrocious!"
Shaq-Fu is an SNES game that was reviewed by The Nerd in the episode An Angry Nerd Christmas Carol. The game is famous for having the worst control for any fighting game.
"The Liberation"
On the video, the Nerd said:
"I also gotta mention that there also used to be a website dedicated to finding and destroying every cartridge of this game. It's that bad!"
This website is still on, but it looks like it's abandoned since there are no updates in a long time. They call this mission "The liberation". There's some photos of people buying the game, maybe to destroy the cartridges, or just to get the game of the stores.