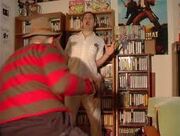 A Nightmare on Elm Street
is the 13th episode of
The Angry Video Game Nerd (series)
. It aired on Oct 31, 2006 and is 13 minutes and 27 seconds long. Both the Nerd and
Mike Matei
assume the role of Freddy Krueger as body double and voice respectively. The review was featured on the second disc of Never Sleep Again: The Elm Street Legacy.
In the ScrewAttack.com and Cinemassacre.com versions, this video features an alternate opening and ending, and also features the song "Welcome to My Nightmare" by Alice Cooper over the end credits. The title card for this episode is shown during the end credits as James Rolfe didn't want to spoil the Power Glove reveal by showing it at the beginning.
The YouTube version uses the "Vampire Killer" theme from Castlevania at the end credits.
Plot
The Nerd gets tied up by controllers possessed by Freddy Krueger. He is forced to play the game A Nightmare on Elm Street on the NES.